Social Media Marketing (Free to attend)
Social Media Marketing (Free to attend)
Social Media Marketing (Free to attend)
Tuesday, January 6, 2015
6:30 PM to 8:30 PM
Artistic Exploratory Center
6169 B Industrial Court. Greendale, WI 53129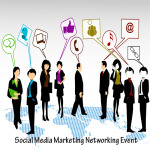 Social Media Marketing (Free to attend) January 6th, 2015
This interactive free networking event is for small business owners and their employees who are looking to expand their knowledge on social media marketing , online and offline marketing, and to meet other local small business owners. This networking event is held once a month usually at the beginning of the month.
Featured Speaker: Each class has a Featured Speaker who is a small business owner who talk's about a small business related subject.
Additional Topics we will be discussing are:
-The different Social media platforms -How to use social media platforms to market your business
-social media ethics
-Social media customer service
-New changes to social media platforms
-the latest in social media trends
You also will be able to meet and network with other local small business owners.
Social Media Marketing (Free to attend)